In this article,We will see Life story of royal king Hindusurya Maharana Pratap.Maharana Pratap means hard life. Maharana Pratap is a royal ascetic.Maharana Pratap is a bright character. He is a symbol of unwavering self-esteem.
He was born on 9th May 1540 at Kumbhalgarh fort. His mother's name was Jaywantibai and his father's name was Maharana Uday Singh.His mother told him stories of childhood Ramayana, Mahabharata. He was inspired to fight against injustice. As a child, Pratap used to play various games with the children of Bhils, calling them "Kika" meaning son.
At that time, India was ruled by the Mughal emperor Akbar. Left historians have portrayed Akbar as "The Great Akbar", but he also had nails. After conquering Chittor fort, Akbar massacred about 30,000 innocent Hindus. In order to save face from Akbar's army, about 7000 Rajput women jumped into the blazing fire and performed "Jauhar".
All the great men who have done great deeds in history are promised. Only a man inspired by a specific goal can make history. Maharana Pratap had also made a similar vow, "I will not stay in the palace until our motherland is liberated from the enemy. I will not eat in a gold-silver container. The grass will be my bed and the foliage will be my food."
Diplomatic victory
Maharana Pratap's struggle with Akbar was inevitable. To get the Maharanas to surrender, Akbar sent Jalal Khan Korchi, Amer's Yuvraj Mansingh, Raja Bhagwandas and Raja Tordamal for talks, but Pratap rejected the compromise on independence.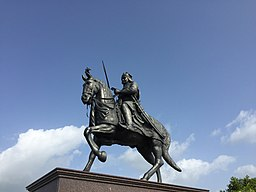 Haldighati Mahasangram
The independent Hindu kingdom of Mewar was in Akbar's eyes. After defeating Maharana Pratap, Akbar sent Mansingh and Asaf Khan to raise the green flag on Mewar. Mansingh was a Rajput but was serving the Mughals. Who is yours Who's stranger That's what he didn't understand. What can be said about these people who are kneeling before the Mughals who are trying to end the existence of Hindus? Words fall short. In the words of Babasaheb Purandare, "If the mind dies, only living corpses remain."
Before going to the battlefield, Maharani Ajbande axed Maharana Pratap, he rode on the Chetak horse. It was as if the Empress was telling Chetakala.
"O wind speed
Flying horses,
Who rides on you,
She is my sister in law
Rakhiyo re aaj unki lajl "
At ten o'clock in the morning on 18 June 1576, the battle of Haldighati began. Maharana Pratap's army fell on the Mughals. There was a fierce battle. This war was a war of humanity against Islamic jihad.
Abdul Qadir Badayuni recorded An incident in this war. He had gone to war on the side of Akbar.He asked Asafkhana "Numerous Rajputs are fighting on both sides of you and Maharana Pratap. Then how will you know?, Rajputs on your side and opposite side ? Then Asafkhana replied to him Hindus will die even if they die? Islam will benefit.
Ethnicity of the Mughals
In this war, Hakimkham Suri, Bhilu Rana Punja Bhil, Kishandas, Bhimsingh, Rawat Sanga, Maharani of Koshithal bet on the side of Maharanas. Ramsingh Tanwar and his three sons died a great victory. Maharana Pratap Chetak rode on horseback to Mansingh's elephant, Chetak put both his feet on the elephant's head. Pratap killed Mansingh by throwing a spear, but Mansingh escaped by hiding in a tank. sword in the elephant's trunk injured Chetak's leg. He was walking on the battlefield with the Maharanas even in such an injured condition. In the end, Mansingh's elephant got out of control and fled the battlefield.
Jhala Mansingh, a soldier of Maharana Pratap, disguised himself and led the battle.Finally, at three o'clock in the afternoon, the Mughal army left the battlefield and fled. This place is called "Raktatalai". It had become a pool of blood of both the soldiers in this war. This place is near Khamnaur village.
Taking Maharana Pratap with him, Chetak jumped over a 20 feet nala. Then he fell to the ground, where he died. Chetak was cremated in the premises of Mahadev Mandir at Khedi Imli, where his Samadhi stands as a testimony to intense devotion.
Ramprasad Hatti
Maharana Pratap had four elephants – Chakrabap, Luna, Khanderao and Ramprasad! Ramprasad Hatti did a great job in the battle of Haldighati. He killed many Mughal soldiers, Akbar also envied this elephant. He had ordered to ban only two of them, one was Maharana Pratap himself and the other was his elephant Ramprasad.
for more articles: https://www.mytechnofriend.com
copyright free images link: https://commons.wikimedia.org/wiki/File:Maharana_pratap_haldighatI.jpg
Author of this article is "Pranav Divekar".