Hi friends . Today , We will see Murud Janjira Fort and History. Murud Janjira Fort is a sea fort. This fort is in Maharashtra. It is popular tourist destination.
Location
Murud-Janjira is an impregnable fort in Raigad district. Fort is surrounded on all sides by the Arabian Sea. To the west of Raigad district is the Arabian Sea. Fort is in the sea and near to Murud village . Next to Murud are the coastal villages of Danda and Rajpuri. Rajpuri is at a distance of four to five kilometres from Murud. The village is on the shores of the creek. To the west of this Rajpuri village is Murud Janjira on an island in the sea. Shida boats are available to reach this fort from Rajpuri. Everyone needs to take a boat ride to visit Murud Janjira fort.
Janjira means a fort surrounded by the sea. There are 572 guns on the shores of Murud-Janjira, besides the strong construction and the surrounding sea. That is why this Janjira was impenetrable. Among these cannons was the special large and long range Kalal Bangadi cannon.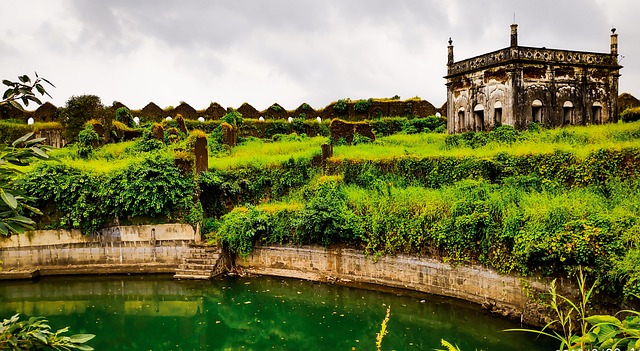 Meaning of Janjira
The word Janjira is derived from the Arabic language. It is derived from the Arabic word jazira. Jazira is an island. There used to be a sheepfold on this island. At that time Rajpuri was mainly inhabited by Koli people. Medhekot was built on the island to prevent these pirates. Medhekot is a rampart made of large wooden logs adjacent to each other. Koli lived safely in these ramparts. Ram Patil was leader of koli people. At that time, permission of Nizami Thanedar had to be sought for the construction of Medhekot. As soon as he got the security of Medhekota, Ram Patil became the policeman. So the Thanedar appointed Piramkhana to take care of him.
Pirmarkhana had an idea that Ram Patil would not let him roam near Medhekota. He was very clever. Pretending to be a liquor merchant, he anchored his ship in the bay. He sent a few bottles of liquor as a gift to be in love with Ram Patil. Ram Patil became happy after tasting liquor. Piramkhana expressed his desire to see Medhekot. Piramkhan went to Medhekot. He gave drinks to all the fishermen. All fishermen started drinking at night. Piramkhana took down the army from the rest of the ships. Piramkhana killed them all and captured Medhekot.
Click here to read Story of Sir Ratan Tata
Ruler Burhankhan
Burhankhana took place of Piramkhana after some days. He obtained permission from the Nizam to build a strong fort there. Burhankhana build huge building at that time with local red stones .Siddi Amber obtained an independent charter from the emperor in 1617, . He obtained the Ownership. Original man of Janjira Sansthan is Siddi. Janjira's Siddi, originally from Abyssinia, was a brave, tough and tough seaman. He fought valiantly. Many tried to win Janjira. But he could not succeed. Even Chhatrapati Shivaji Maharaj could not get ownership of Janjira.
Janjira remained Anjikya for 330 years from 1617 to 1947. The entrance to Janjira is facing east. Once the boat reaches the entrance of the fort, there is a subdivision inside this entrance. There is a sculpture near the entrance. This picture shows the pride of Burhankhana. It is a picture of a tiger holding four elephants on all four legs and an elephant wrapped around its tail. Burhankhan dared to the other rulers, "You are an elephant, but I am also a lion. Do not dare to look at this fort."
The Siddi chiefs of this fort always kept this fort invincible. To capture this fort, Sambhaji Maharaj had built a strong fort called Padmadurg at a distance of five or six kilometres near this fort. It was not possible for Maharaj to conquer Murud's Janjira.
Click here to read about Jamtara: The fraudulent calls you get from banks come from this village
Janjira today
Today, Murud janjira fort has become a tourist destination. There are many beautiful beaches near murud. Local villagers have open motels, cottages , mini hotels for Tourists. Cashews and mangoes are famous fruits available in murud. MTDC (Maharashtra tourism development corporation) has beautiful locations for stay. Local fish dishes with special malvani spices attract food lovers. People from all over India come to janjira fort. Students of various Architecture colleges make study of fort. There are 2 water ponds are available on fort. Even you can drink water from water ponds. There are some shops available on fort for tourist.
Guides are present on fort to tell history of fort to tourists.
for more articles: https://www.mytechnofriend.com
Copyright free images: https://pixabay.com/photos/murud-janjira-fort-water-3881173/
Author of this article is "Pranav Divekar".